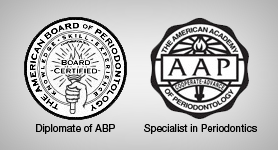 The American Board of Periodontology administers the board certification process for experts in the dental specialty of periodontics. The board was formed in 1939 by the American Academy of Periodontology to maintain a high standard of care and advance the science and art of periodontology. Diplomate is the highest recognition of achievement afforded by the specialty.
All physicians must be board certified in order to pursue their practice, but a periodontics board certification requires additional education, training and evaluation from the American Board of Periodontology, an affiliate of the American Academy of Periodontology. The AAP awards Diplomate status to periodontists that have made significant achievements beyond the mandatory educational requirements of the specialty, including: dental and periodontal certifications, comprehensive oral and written examinations, and presentation of reports of actual treatment provided by the periodontist.
As a Diplomate of the American Academy of Periodontology, Dr. Altschuler not only upholds the standards of the Academy but has also established a commitment to advancing the practice of periodontics.
He has been approved for Diplomate status by a panel of internationally respected peers for demonstrating a motivation for continued professional development, self evaluation, critical review of therapy results, and providing the best, most up to date care.