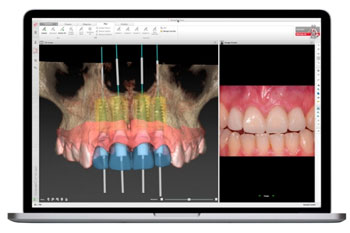 Dental implants are a man-made replacement for missing teeth. They've caused a revolution in dentistry because they behave just like a real tooth root, even bonding naturally with the jawbone. Millions of people all over the world now enjoy dental implants.
Dr. Altschuler is trained in the most innovative ways to replace missing teeth. Among these techniques is NobelGuide™. This computer-guided procedure allows us to place implants quickly, precisely and in a minimally invasive way. Since no incisions or stitches are necessary, initial healing is greatly improved.
NobelGuide™ allows us to plan the implant procedure in advance using three-dimensional software. In as little as one procedure, you can have beautiful new teeth and be able to begin eating the foods you love, with minimal to no discomfort, as soon as you leave our office.
This simple procedure can transform your confidence and improve your looks. Today there is no need to settle for anything less than a beautiful smile.